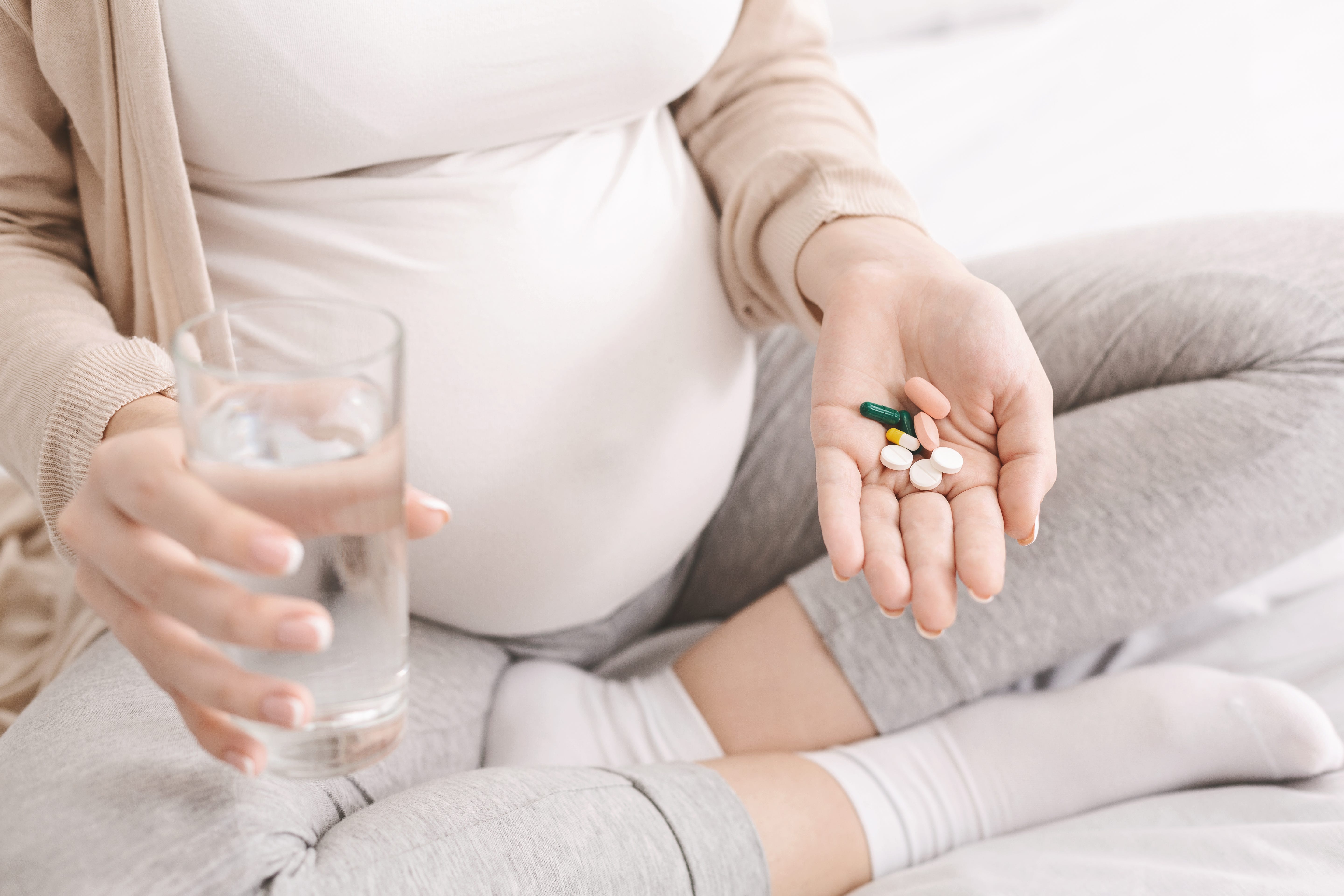 What to look for in a pregnancy multivitamin
There's no denying that your body goes through a significant transformation during pregnancy. But perhaps one of the most important changes is the additional nutritional needs that come with growing a little human.
Throughout your pregnancy journey, from preconception to breastfeeding, it's essential to nourish your body for both yourself and your growing bub. While a healthy diet is a great way to get all the vitamins and minerals you need, sometimes it can fall short - especially during pregnancy. While pregnant, the demand for certain nutrients, like folate, iron, iodine, protein and other vitamins increases dramatically, which can make it difficult to meet your recommended intake through diet alone. Luckily, there are a number of different supplements for pregnancy which help fill any nutritional gaps so both you and your baby can enjoy a healthy pregnancy.
That's where prenatal vitamins come in. Vitamins for pregnant women have been specially formulated to meet your changing nutritional needs while supporting a healthy pregnancy and the development of your baby.
Let's take a look at what pregnancy multivitamins are, some things you should look for and when you should start taking them.
What is the difference between prenatals and regular vitamins?
Unlike regular vitamins, prenatal supplements are formulated for women who are pregnant, or are trying to get pregnant. They contain specific doses of vitamins, minerals and nutrients that are essential for pregnancy, including folic acid, iodine and iron. Although regular multivitamins may still contain these nutrients, they tend to be formulated with different quantities.
What should a prenatal vitamin have?
While it's still important to nourish your body with a balanced diet, taking a prenatal supplement is a great way to make sure you're getting those essential vitamins needed during pregnancy.
With that said, not all prenatal vitamins are made the same. So, if you're on the hunt for a little extra nutritional support during your pregnancy, here's what to look out for when it comes to choosing a pregnancy multivitamin.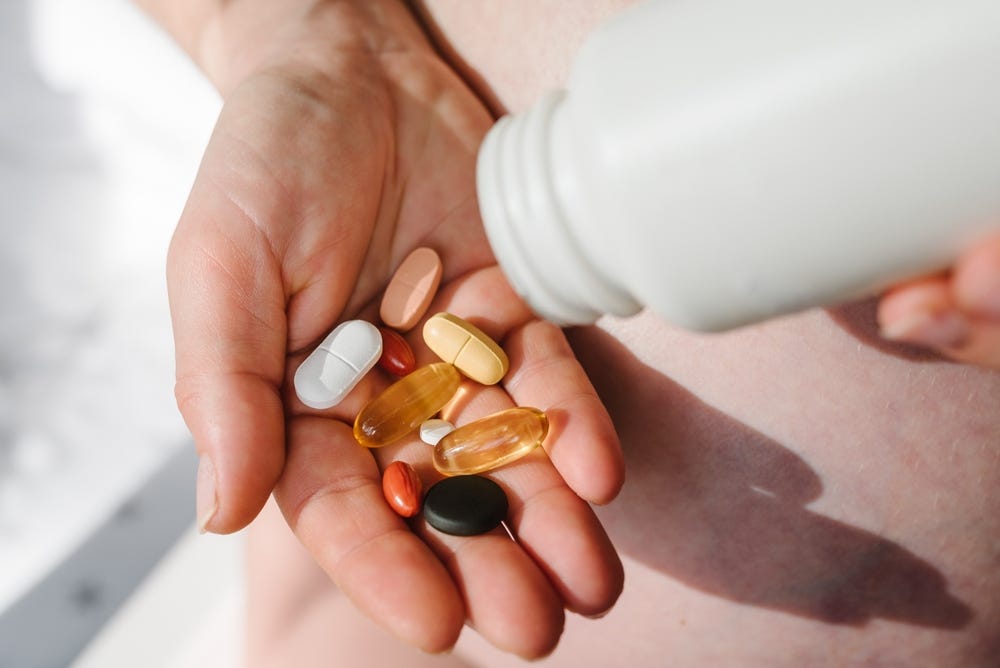 What vitamins to take when pregnant
There are several key minerals and vitamins to take when pregnant for supporting a healthy pregnancy and your baby's development. Here are some key minerals and vitamins to include in your diet when pregnant:
Folate or folic acid: Folate is a B vitamin that's essential both before and during early pregnancy when the neural tube is developing around weeks 5 and 6 of the pregnancy. Folate helps to prevent potential neural birth defects (NBDs) like spina bifida¹. Some of the best dietary sources of folate include legumes, green vegetables, citrus fruits, beef liver and avocado.
Iron: During pregnancy, your body's blood volume increases to supply your growing baby and placenta². Iron plays a key role in the development of these red blood cells and the delivery of oxygen throughout the body. Consuming iron-rich foods like red meat, fish, poultry, legumes, spinach, dried fruit and fortified cereals is a great way to boost your iron intake throughout pregnancy. You also might want to pair these with foods that are rich in vitamin C, like oranges, lemons, tomatoes, broccoli and more to help your body absorb the iron.
Iodine: Iodine plays a key role in the healthy development of your baby's brain and nervous system during pregnancy and breastfeeding. Iodine requirements commonly double3 throughout pregnancy, making it an essential pregnancy vitamin.
Calcium: Calcium plays an important role in the growth of your baby's bones and teeth. It can also help reduce the risk of conditions like preeclampsia and hypertension4. You'll find it in dairy products like yoghurt, milk and cheese, with plenty of non-dairy sources like seeds and leafy greens.
Omega-3: During pregnancy, omega-3 fatty acids provide the vital building blocks of your baby's brain and eyes5. Foods that are high in omega-3s include cold-water fatty fish, walnuts, leafy greens, tofu and seaweed.
Pregnancy supplements in the first trimester
In the first trimester, your baby's organs and tissues are already starting to develop . While nutrients like folate, omega-3, iodine and iron are important throughout your whole pregnancy, they play a key role in your baby's development during those first few months.
That means it's essential to make sure you're getting enough vitamins, minerals and nutrients to support the start of your baby's developmental journey and give them the best possible start.
When to start taking prenatal vitamins
You might be wondering, 'when should I start taking prenatal vitamins?' It is best to speak to your healthcare practitioner on this as every individual is different however, as you start trying to conceive this is the best time to look at your health and nutrition to ensure you are not missing any essential nutrients your baby requires during growth and development.
It can be difficult to predict how long it will take to fall pregnant and many soon-to-be parents don't find out until a few weeks after conception. Hence, it's often best to start taking a prenatal vitamin as soon as you decide to start trying. With that said, if your pregnancy has come as a bit of a surprise, it's best to start a prenatal vitamin as soon as you know rather than not taking one at all.
Do you take prenatal vitamins the whole 9 months?
It's recommended that you take a prenatal vitamin during the entire length of your pregnancy to ensure you're getting the right nutrients, vitamins and minerals to support both you and your growing baby. Keep in mind that it's always best to speak to your healthcare provider for the best advice for your specific situation.
Are you planning on starting a family but you're not quite sure where to begin? Check out our blog on how to prepare for pregnancy for an overview of how to start planning and prepping yourself and your family for this amazing new life experience.
References:
Soma-Pillay P, Nelson-Piercy C, Tolppanen H, Mebazaa A. Physiological changes in pregnancy. Cardiovascular Journal of Africa [Internet]. 2016 May 18;27(2):89–94. Available from: https://www.ncbi.nlm.nih.gov/pmc/articles/PMC4928162/

Folate. Health Direct. Available from: https://www.healthdirect.gov.au/folate

Institute of Medicine (US) Committee on Nutritional Status During Pregnancy and Lactation (1990). Part I Weight Gain: Part II Nutrient Supplements. Iron Nutrition During Pregnancy. National Academies Press (US); Available from: https://www.ncbi.nlm.nih.gov/books/NBK235217/

Kayes, L., Mullan, K.,& Woodside, J. (2022). A review of current knowledge about the importance of Iodine among women of child-bearing age and healthcare professionals. J Nutri Sci, 8(11), Available from: https://www.ncbi.nlm.nih.gov/pmc/articles/PMC9274385/

The American College of Obstetricians and Gynecologists. Preeclampsia and High Blood Pressure During Pregnancy. [internet]. 2023. Available from: https://www.acog.org/womens-health/faqs/preeclampsia-and-high-blood-pressure-during-pregnancy

Cleveland Clinic. Stages of pregnancy & fetal development | Cleveland clinic [Internet]. Cleveland Clinic. 2020. Available from: https://my.clevelandclinic.org/health/articles/7247-fetal-development-stages-of-growth

Coletta, J. Bell, S. & Roman, A. (2010). Omega-3 Fatty Acids and Pregnancy. Rev Obstet Gynecol., 3(4), 163–171. Available from: https://www.ncbi.nlm.nih.gov/pmc/articles/PMC3046737/